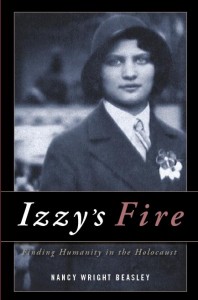 "Izzy's Fire is filled with the passion of one woman determined to do justice to the story of another woman who lived in hiding throughout the war years. The war has soul…Nancy Wright Beasley has told a powerful story with dignified restraint.  She has given voice to an underreported side of the Holocaust – life in hiding." –Michael Berenbaum, Project Director of the United States Holocaust Memorial Museum (1988-1993)
"Nancy is a passionate, dedicated writer who has written a searing story, sure to capture readers with Izzy's Fire.  She proves herelf to be a storyteller who uses firsthand accounts and research with equal resolve." – Adriana Trigiani, Author of the Big Stone Gap triology
"We're talking the stuff of miracles here and Nancy Wright Beasley captures it well." – Tom Graves, President, Baptist Theological Baptist Seminary of Richmond
Nancy Wright Beasley's seven-year journey that led to this book began when she heard a Buchenwald survivor recite names of family members who died in the Holocaust.  Beginning to understand the significance of recording survivor history, she read memoirs, interviewed survivors and discovered the miraculous  journey that finally led Edna Ipson and her family from the heel of the Nazis to "the other side of hell."  She tells of their journey in Izzy's Fire.
Honors
"Izzy's Fire" was named as one of five outstanding nonfiction books written by Virginia authors in 2005 and was nominated for the People's Choice Award.
The People's Choice Awards are given for the best fiction and nonfiction books by Virginia authors published in the past year, as decided by a vote of Virginia readers. The award is sponsored by the James River Writers and the Library of Virginia. Selection is made by the public by voting online or at libraries and bookstores throughout Virginia.