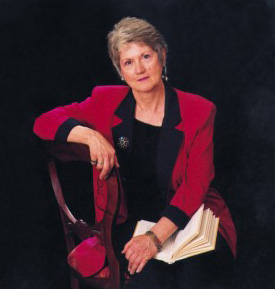 Nancy Wright Beasley's journalistic career spans 35 years, including seven years as a state correspondent for The Richmond News Leader from 1979-86. The author has been a personal columnist and a contributing editor for Richmond Magazine since 1998. She has written national award-winning columns and articles for that magazine, as well as several other publications.
Judges in the City and Regional Magazine Association's (CRMA) national competition, which encompasses more than 85 magazines, gave Beasley's personal column ("Reflections" – Richmond Magazine) a silver excellence award in 1999 and in 2001. Her work for a 20-page special section on domestic violence and sexual assault in the City of Richmond, published in Richmond Magazine, won a bronze excellence award in civic journalism from the CRMA. The special section also garnered a best in show award in specialty writing and a first place in investigative reporting in Virginia Press Association competition, as well as an award of excellence in the Best of Virginia competition sponsored by the International Association of Business Communicators.
Beasley earned a master's degree from the School of Mass Communications at Virginia Commonwealth University in 2000 and a master of fine arts in children's literature at Hollins University in 2011.
The Virginia Press Women named Beasley as their Communicator of Achievement in 2005. The Richmond YWCA chose her as one of Ten Outstanding Women in Central Virginia in 2006.
In 1998, Beasley wrote her first article about the newly established Virginia Holocaust Museum. She was so moved by the stories re-created in the Richmond museum that she began researching the experiences of the Israel "Izzy" Ipson family and members of four other Jewish families who lived in Lithuania during World War II. Her research helped document how 13 Jews survived the Holocaust by living in a 9'x12'x 4' underground hole, their lives sustained by a poor Catholic farm family.
Izzy's Fire: Finding Humanity in the Holocaust, which retells the story of the five families, meets several of Virginia's Standards of Learning. The book has been taught in several Chesterfield County schools, as well as a variety of other public schools and universities since its publication in 2005. A revised edition was published in 2008. The author is available for presentations here.
One of Beasley's feature stories about the Virginia Holocaust Museum, which appeared in Rural Living magazine in 1998, was chosen by the National Association of Rural Cooperatives as the first place national feature story among a readership of approximately six million.
Along with extensive interviews of the Ipp (now Ipson) family, Beasley helped research and document the reunion of that family with Stanislavas Krivicius, who as a teenager, helped his parents shelter the Ipps, as well as 10 other Jews. This information was used to declare Krivicius and his parents Righteous Among the Nations, an honor bestowed by Righteous Among the Nations, Yad Vashem, The Holocaust Martyrs' and Heroes' Remembrance Authority in Jerusalem. The honor is reserved for non-Jews, like Oskar Schlinder, of Schlinder's List fame, who risked their lives to save Jews during the Holocaust.